La Maison de Lola
is the result of Lisbon-based Portuguese duo Iolanda Mealha (Lola for short) and Álvaro Ramos. They've just launched cushions (I want the daschund doggy one) to add to their core collection of soft toys like Ms. Oink.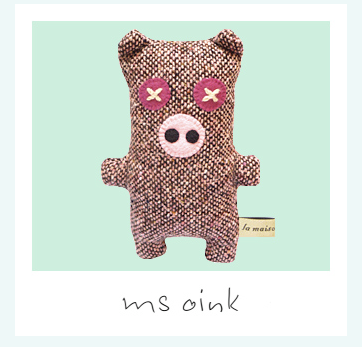 Ms. Oink's made of wool tweed and felt. The
La Maison de Lola
says that this female hog "likes nothing better than hit the shops for the latest trends, oink on her mobile with her friends and dip in her pool...she has a soft spot for antiques, and can frequently be seen in markets searching for that perfect little something."